I finished this version of liesl (which is actually a cardi pattern) the other day, I don't know whether to like it or not. My first impression is to hate it beacuse it is made from yarn bought for a thing I was planning for someone who will no longer be getting knitted for by me! So I wanted to get that horrid (cheap) yarn used up, so thought I'd try it out on liesl. In case I don't like liesl, cos it looks like a slightly jobby pattern. Not only that, the yarn also ran out, so it has this interesting fade into beige. At this point I realised it was doomed never to be worn out, so just carried on in stocking stitch.
But you know, its really warm, and really comfy. And I quite like navy and beige together. I even wore it out...under a sling, on the school run. I won't wear it in real public. But I think I'll knit another , just in stocking stitch next time.
Also, I've been washing that fleece some more
and pondering drop spindles...knitting a thing called a gaiter in the 'one skein wonders' book but that seems a horrid word for a hat/headband thing. Surely gaiters are things for your legs? Anyway, it is warm thing, I finished it this evening and its very nice.
Its just a tube of 1x1 but its v cosy. I also...the shame...finally sewed the ends in these socks...
discovered abi and I love refried beans (much tastier than they look)
started building a wigwam in the garden...
whilst the children lazed around...
received a birthday request...
and had a good giggle when I took a break frmo cooking to check on abi, to be greeted with this sight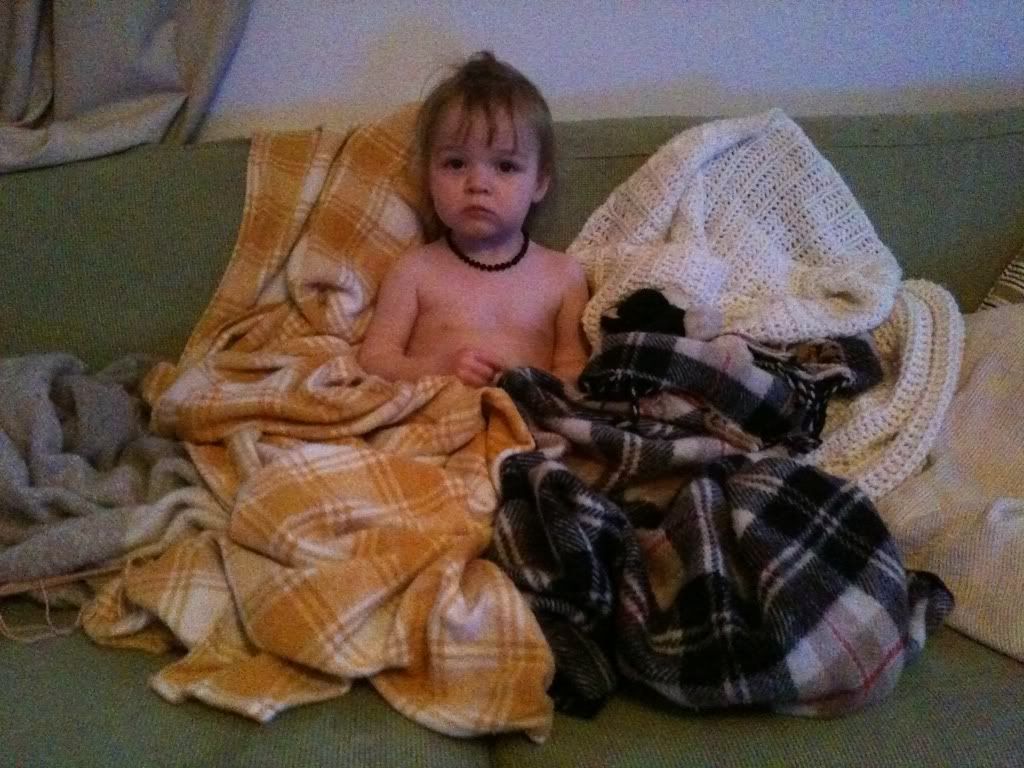 that girl knows how to use a blanket or 3.